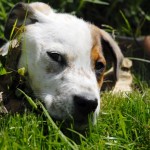 Step 1: Express Your Interest (10 mins)
The first step is to let us know that you are interested in the Walk My Dog franchise opportunity by completing an online Expression of Interest Form.  Care should be taken to ensure that you fit the criteria outlined in Our Ideal Associate. If your preferred area is already taken, please submit a form anyway as new franchise opportunities may arise.
Step 2: Review our Franchise Information Pack
Once we have established your eligibility to become a Walk My Dog Associate, we will send you our Franchise Information Pack which details the Walk My Dog business opportunity and what's required of you.  We will also forward you our Franchise Disclosure Document and a sample Associate Agreement Document.
Step 3. Attend Interview
We will then contact you to arrange one or more interviews/meetings. The relationship between franchiser (Walk My Dog) and franchisee (you) is critical to the success of the business so it is important that we learn something about you and that both parties are confident in each other's ability and commitment to making the business grow and prosper.  At this stage you may be required to prove that you have sufficient funding available (which might include the arrangement of bank finance) – which, in itself, will prompt the need for a business plan to be prepared.
Step 4: Define franchise territory.
Our head office in Cardiff will work with you to define your protected territory. This ensures cooperation among all Walk My Dog Associates. A single territory is defined as 50,000 households and typically consists of between 3 and 5 postcode areas.
Step 5: Return Associate Agreement and Payment.
To finalize the paperwork portion of our relationship, we have you return your customized Franchise Agreement along with your payment. This will hold your spot in our next training class and help establish your opening date.
Step 6: Attend Franchise training in Cardiff, South Wales.
The Walk My Dog dog walking and pet sitting franchise opportunity includes an unrivalled training package.  You will be enrolled onto an accredited pet sitting and dog walking training course. You will also get the opportunity to spend time shadowing a successful Walk My Dog franchise in South Wales. This close interaction with a successful business owner will significantly help you to get your business launched and running successfully.
Timeframe: 4 days
Step 7: Open your Walk My Dog Pet Care Business
At this stage you will be ready to start your very own Walk My Dog pet care business. You will be supported every step of the way.
Timeframe: 4 weeks
Total timeframe: 9 weeks